Sports fishing, Cabo San Lucas Sport Fishing
The Ultimate Sports Fishing Grounds in Cabo San Lucas for a Perfect Fishing Experience
Envied worldwide for world-class sports fishing and reckoned as the ultimate place to cast bait, Cabo San Lucas provides both beginner & pro anglers with the perfect fishing experience.
The Ultimate Sports Fishing Grounds in Cabo San Lucas for a Perfect Fishing Experience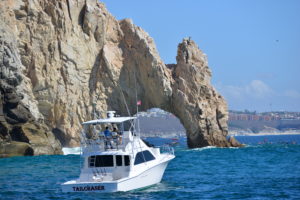 Envied worldwide for world-class sports fishing and reckoned as the ultimate place to cast bait, Cabo San Lucas provides both beginner & pro anglers with the perfect fishing experience that truly no other fishing destination can rival!
However, to experience the thrill and excitement that deep sea Cabo San Lucas sport fishing offers to anglers, it's important that you know about the best fishing grounds in and around the area. And this is what we'll share with you in this fishing report, so that when you go to Cabo San Lucas, you don't miss the opportunity to catch the Striped Marlin, the best game fish in the sea, or miss your shot at finding big schools of Yellow Fin Tuna.
Hot Spots for Sports Fishing in Cabo San Lucas
Known as the quintessential billfish fishery, the Finger Bank is the perfect fishing ground for anglers looking for a sea adventure. Situated approximately 50 miles upward from the marina of Cabo San Lucas, this is the place where you can find and bait for predatory fish. During winters and early spring, the place is surrounded by hoards of Stripped Marlin.
Located on the Pacific Side, Tinaje Trough is one of the best fishing grounds in Cabo San Lucas. It is a deep gorge, forming a pathway of currents, underwater. It is nestled between The Golden Gate Bank and San Jaime Bank where the warm currents swiftly carry large amounts of Yellow Fin Tuna, Blue Marlin and Skipjack Tuna. Blue Marlin is the most favorite and exciting catch in the sea for anglers here, typically because of its aerial acrobatics and unbelievable agility. If you choose this ground for fishing, make sure that you come equipped and are ready for a chase to catch your prey.
This is one of the most popular fishing spots on the eastern coast of Cabo San Lucas, and in the Sea of Cortez. It is located 5 miles away from the coastline of Baja. This fishing spot is divided into the Outer and Inner Gordo Banks. The Outer division is where all the sea action happens. From April to November, the Outer Gordo Banks is brimming with Yellowtail, Wahoo, Grouper, and Pargo and profuse with Sailfish, Tuna and Mahi Mahi. And in case you visit this place off-season, even then you can enjoy great fishing here.
If you're dead-set that you want to come back home with an epic Cabo San Lucas sports fishing story, then 1150 Bank is a must visit fishing ground. Lying approximately 20 to 25 miles off shore, 1150 Bank sports a fantastic combination of marine features of the Pacific and the Sea of Cortez. This is a much celebrated location for catching Marlin & Tuna fish, and what adds to the excitement is that the fishing spot is frequented by a variety of Shark species, particularly the shortfin Mako Shark, also known as the Blue Pointer.
So, what are you waiting for? Gear up for some memorable deep sea sports fishing action in Cabo San Lucas! Make sure to visit these hot spots to experience the real thrill of sports fishing.
Cabo fishing report from January 13th to January 25th.
Our Ocean waters got cold after the cold front came in from the North about a week and a half ago. This made all big game fish go farther south and away from our local banks.
So for the last 2 weeks we have been doing really good with small game fish close to shore such as spanish mackerel, rooster fish and what we call toro fish. We have also occasionally ran into small yellowfin tunas and striped marlin.
Cabo weekly fishing report from January 5th to January 13th.
We started this week with a big 310lb yellowfin tuna that we caught out of finger banks after we let go 6 striped marlin onboard our 35ft Cabo flybridge with captain Arturo.
After that day, we went out to the finger banks again and even though we found plenty of bait on top of the water, we did not see all the action that we were getting for weeks. Waters were really green, birds and marlins were no longer there, so we went out looking for dolphins, once we found them we caught a few yellowfin tunas around 10 to 15 lbs. One of them had the smallest dorado I have ever seen in its mouth.
On our way back we found a few marlins surfing the waves so we caught and release two of them. After all and even though it wasn't the day we were hoping for, it still was a great fishing day.
During the week, we release quite a few striped marlins, caught plenty of 10 to 15 lb. yellowfin tunas and occasionally small dorados.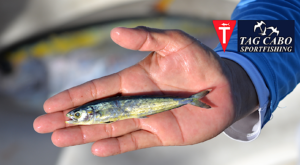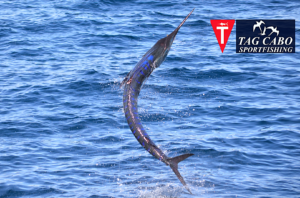 Cabo fishing report from December 23rd to January 5th.
First of all, we would like to thank every one of our followers and clients that were with us all 2016.
For the past two weeks we have been catching and releasing plenty of striped marling. Big schools of mackerel have made their way into the Pacific banks attracting tons of striped marlin allowing us to catch and release a few per day. Other than that, we are still catching some smaller dorados and wahoos in small numbers. Also out in Gordo Banks we have been doing good with small football size yellowfin tunas.
We are still doing great out on Finger banks. Just before arriving to finger banks, you can see all the birds every were just going crazy feeding off of the chum left behind by Marlin and Yellowfin feeding from below. As soon as you get close to the bait ball you can see big yellowfin tunas bridging out of the water eating the sardine and the marlins all lit up circulating the bait balls. We have been trying to catch one of the big yellowfin tunas bridging out of the water but the marlins kept eating our bait lol. Maybe next time!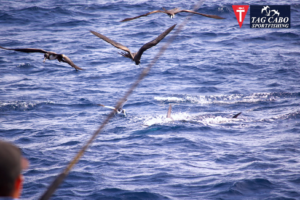 Cabo sport fishing report from December 13th to December 23rd.
This week we took a few clients out fishing on our 30 footers and our captains manage to catch and release a few striped marlin by bottom fishing around the light house, also our captain Felipe took clients fishing on our panga and caught a few rooster fish along shore.
We only had one group of repeat clients that were willing to pay the price and go the distance to finger banks, Witch it was a great fishing day since we managed to release 20 marlins out of 24 that we hooked, At one point we had 4 marlins on the line at the same time with hundreds of friget birds around us, marlins every were chasing bait balls and clients screaming O my God look at my marlin jumping out of the water !!!
Cabo sport fishing report from December 6th to December 13th 2016.
Being that we only have had two customers willing to go the distance (Finger Banks) we release 28 striped marlin, 12 on the first trip and 15 on the second. Upon arriving to finger banks, we were so happy and exited as we were able to witness thousands of frigate birds feeding from chum left behind as striped marlin and tunas fed from below. I strongly believe that any real hardcore Angler such as us would have been just as excitingly happy as we were, to witness how blessed and wealthy our Ocean is down here in Cabo San Lucas. We also found a few marlins within 5-10 miles off of shore along with dorados, but even then, nothing compares to the massive bait balls we found out in the finger banks witch is about 50 miles out from Cabo on the pacific side. Yet another great week of fishing in Cabo San Lucas. Tune in next week for our updated fishing report.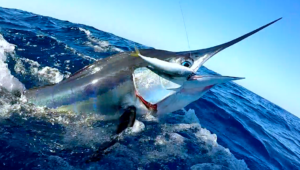 Cabo sport fishing report from December 1st to December 6th 2016.
Winds have been a bit high this week but fish are still biting. We have been consistently catching Dorado around the light house early in the morning along with a few good size Wahoo. In addition, Stripped Marlin have been biting a bit later during the day and into the afternoon allowing us to catch and released several of them every day.
San Jose del Cabo has been significantly different than San Lucas. We have been catching yellowfin tunas from 10 to 15 pounds around Gordo Banks and a couple of cows have been reported as well.
Over all its been a great week for sportfishing in the Los Cabos area with plenty of happy anglers that got to fish with our great Captains on board our Tag Cabo Sportfishing fleet.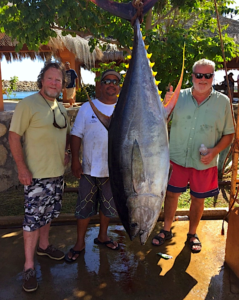 Cabo fishing report from November 26th to December 1st 2016.
It's that time of the year again! Heading out early in the morning in search for stripped Marlin tails skimming on top of the water. Marlins surfing the waves in search for bait. We're ready to hook up! Waiting patiently and switching up our strategy. As soon as we see the marlin tail fin sticking out of the water, we run to the bow of the boat casting a live bait to the stripper over and over again until it eats allowing our angler to begin his big game fight at an estimated 30 to 45 minutes. After 45mins of back and forth fighting, we allow the marlin to get as close as possible to the boat (exhausted by this time!) allowing us to handle it with care, unhook and release it.
This week has been great, we have been catching and releasing plenty of striped marlin, filling up our fish bags with dorados within the same area, about 10 to 15 mile from Cabo. I strongly recommend that if you would like to go target this species, make sure you go out fishing all day witch is at least 8 hours, that should give your Captain enough time to get to the fishing grounds and work on getting you hooked up with that so anticipated trophy fish you have been dreaming of.
We have also been doing great close to shore with rooster fish, spanish mackerel, trigger fish and some needle fish as well, So if you dont really want to go out for a full day of fishing, I strongly recommend to get on a 30 footer or a super panga and do a close to shore fishing trip to have better chance of some action.